Welcome to our final exhibition! 31 young international artists present their experiments whose overarching interest concerns expression beyond, beneath and between words. >> FB-EVENT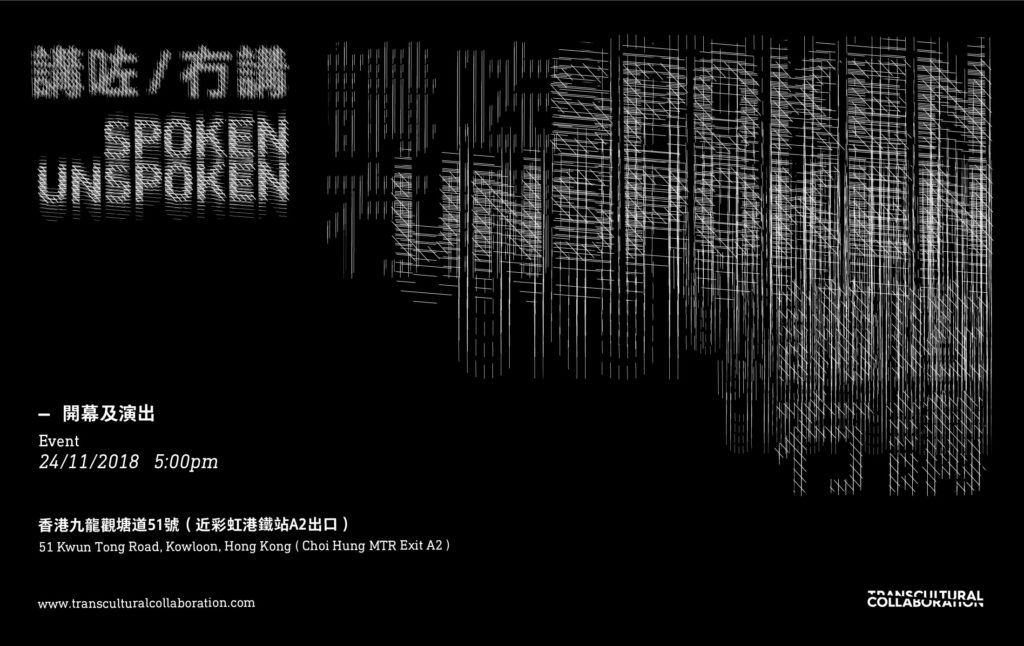 The one-day happening conveys artistic strategies that deal with implicit and explicit expression. By creating spaces of ambiguity, gaps, cracks, traces and tensions, the entanglement of SPOKEN/UNSPOKEN poses an intriguing playground. One that turns out to be a fruitful prism through which a myriad of topics can be looked at, thought about and reflected. The group show will be followed by a dinner buffet and a closing party for the fun-loving folks.
For the fourth year running, our international semester programme gathered graduate students from 7 art universities from East Asia and Europe and a wide range of cultural and professional backgrounds. After 14 weeks of experiments with a collaborative approach—including a two-week exhibition at McaM Museum in Shanghai—the 31 participants of this year's edition are proud to present the results of their third and final working phase here in Hong Kong.
PROGRAMME
4.30PM WELCOME DRINK AT MAIN ENTRANCE
5.00PM FORBIDDEN FRUIT FROM RICHLAND'S GARDEN (PERFORMANCE)
5.30PM WHERE SHALL WE MEET TONIGHT? (INSTALLATION)
5.30PM DEAR STRANGER (INSTALLATION)
5.30PM CITY IN TRANSIT (PERFORMANCE)
6.00PM ASPHALT NATURE (PERFORMANCE)
6.00PM TANHUA (INSTALLATION/DURATIONAL PERFORMANCE)
6.15PM MASKS (PERFORMANCE)
7.00PM DEAR STRANGER (ACTION)
8.00PM ASPHALT NATURE (PERFORMANCE)
8.15PM MASKS (PERFORMANCE)
9.00PM PARTY
ARTISTS
Yuanyang BAO, Simona BISCHOF, Vivian CHAN, Peitao CHEN, Keng CHEN, Florian GEISSELER, Diego KOHN, Silas KUTSCHMANN, Wen Qing KWEK, Mengying LI , Jiaming August LIAO, Sijia Star LIU, Wen-Chi LIU, Yu Rainie LIU, Xiaoli LIU, Mei Ting Spencer POON, Nikolai Eneas PRAWDZIC, Dino RADONCIC, Claudio RAINOLTER, Joel SCHOCH, Leonard Kai Fung SO, Marco SPITZBARTH, Nathalie STIRNIMANN, Stefan STOJANOVIC, Anbang WANG, Mei Yan WONG, Sir Meng YAU, José Eduardo YEPEZ PINO, Ingjerd YTTERDAL HOLTEN, Jingying ZHANG, and Xinyun Juliana ZHU
DATE: 24 November 2018, 4.30pm (and afterparty till late)
LOCATION: Baptist University, Kai Tak Campus
ADDRESS: 51 Kwun Tong Road, Hong Kong (Choi Hung MTR Exit A2)