International Semester Program in the Arts and Design
Transcultural Collaboration is a unique international MA semester programme in the arts and design, and a cooperation between seven arts universities in Asia and Europe. 30 participants from all arts and design disciplines have the chance to explore Zurich and Hong Kong, collaborating on experiments with open outcomes. The programme runs from September 2nd until December 13th 2019.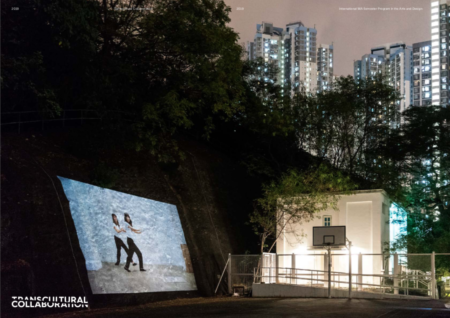 The programme has two central characteristics that can be experienced and explored only in this unique setting. Its general focus are transcultural topics, such as traditions, identity, genealogy of the present, values, ethics, different forms of life, globalization processes in general and between Europe and East Asia in particular.Their social and cultural sensitivity makes art and design practices ideally suited to contributing to transcultural discourse and to expressing a variety of topics through aesthetic means. Hong Kong is predestined as an exemplary location within this thematic context.
Learn more about the programme in general.
The programme's second important focus is practical collaboration between different cultures and forms of art and design. This principal working method promotes intense exchange about and first-hand experience of transcultural issues. It also helps participants to further differentiate and extend their own discipline. Students receive close supervision and expert support from selected faculty from all partner institutions and from independent artists and experts from various art and design disciplines.
The core programme is dedicated to practice-based collaboration and teamwork on self-defined topics. Theoretical inputs will enable participants to critically reflect on the main topic — transculturality — and thereby to gain further insights into this pressing issue. An annually changing topic for a specific lecture series on transculturality will focus debate and provide a framework for practical experimentation. The programme will be complemented with additional inputs, excursions, and workshops on subjects like cross-disciplinary collaboration, current local/global issues, and contemporary art and design in East Asia and Europe.
Learn more about last years semester topic Bonds & Ties.
In 2019, the programme began in Hong Kong before continuing in Zurich. Participants pursued their work at the various partner universities. Special workshops with renowned artists and a two-week field trip to Shanghai and Hangzhou completed the programme. Two public presentations took place in Hong Kong and Shanghai. The final public exhibition and conference took place in Zurich.
Partners and Collaborators
Academy of Visual Arts, Hong Kong Baptist University
ava.hkbu.edu.hk
The Hong Kong Academy for Performing Arts
hkapa.edu
LASALLE College of the Arts, Singapore
lasalle.edu.sg
School of Creative Media, City University of Hong Kong
scm.cityu.edu.hk
China Academy of Art, Hangzhou
eng.caa.edu.cn
Taipei National University of the Arts
tnua.edu.tw
Nanjing University, Department of Theatre, Film and Television
nju.edu.cn/EN/main.htm
Zurich University of the Arts
zhdk.ch