By Simona Bischof (Art Education, Zurich University of the Arts), Vivian Chan (Music, Zurich University of the Arts), Silas Kutschmann (Music/Pop, Zurich University of the Arts), Mei Ting Spencer Poon (Visual Art, Academy of Visual Arts, Hong Kong Baptist University), Mei Yan Miley Wong (Digital Art, Academy of Visual Arts, Hong Kong Baptist University), Sir Meng Yau (Fine Arts, Taipei National University of the Arts)
Intro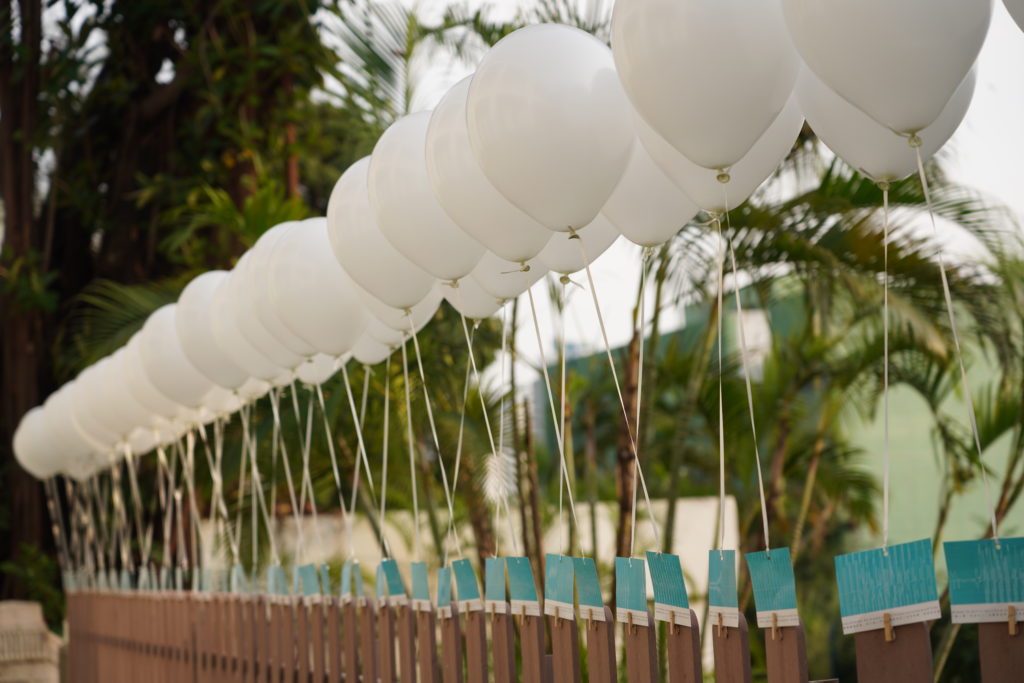 https://howfaristhefuture.home.blog/
Process
In the group forming window we were initially two groups of three – three Europeans (Viv, Sim & Sil) and three Asians (Miley, Spoon & Sir). To not only work transdisciplinary but also transculturally, we decided to work together even though we had different approaches at first.
Initially one idea was to bend a space in different ways. So we visited some areas in the city and performed mostly in crowded places. Some people reacted to it, but it was not nearly as inspiring to them as we had hoped.
Another of the experiments we did was trying to measure a skyscraper with helium filled balloons in an abandoned back alley. That should become a pivotal experiment for our project.
But we were not much closer yet to a clear concept. We were still searching for unspoken rules in Hong Kong we could use as a theme for our art project. A recurring topic in our discussions was the question what citizens of Hong Kong feel like. So we interrogated citizens but mostly discussed with Miley and Spencer, two locals. We somehow circled closer and closer around the word powerlessness in context of the future. In an associative manner we created a poem in which everyone states her/his perspective on that topic. We then agreed that the balloons are an appropriate tool to display our message. Not only because they embody the concept of fragility but also because they can be used as a carrier.
To learn more about this group's work process, please click here to read their portrait A day with….
Concept
Much like within our discussions we realised that we seriously struggled to bring all our different approaches together in a seemingly artistic and aesthetically pleasing way.
The future is far but how far is it?
Something is going to happen and you cannot stop it.
The world around you is changing, the transitions lurking around every corner.
Can you still adapt?
Are you comfortable where you are now?
Does it make you angry?
In our fast moving, ever changing world most of us are accustomed to the feeling of powerlessness. Be it due to oppressing measures from a government or forces within our private spaces that restrict us in moving freely through everyday life. Powerlessness soon results in other sentiments such as anger, resentment, resignation or passivity. Where does one take those feelings and who do we address with them?
One the one hand we want to start a dialogue with a stranger. We send our worries, our annoyance and our uneasiness out into the world and hope for a reaction, a spark, an echo to our action.
At the same time we want to be heard. Our collected sentiments are given a voice within the gallery where they hopefully encourage people to pick up on our dealings with feeling powerless and find solutions of their own.
Result/State of play
The final presentation consisted of two parts: an interactive part outside and an installation inside.
Outside, there were balloons tied to postcards, on which the poem we wrote was printed on, attached to a fence. The poem was spread across all the postcards, making each of them individual.
The audience was invited to take part in our art project by picking and even adopting one balloon with a message that spoke to them. Then, they were asked to search a barrier-free spot, where they could set it free.
Furthermore, the idea was that the art piece would finally come back to us, as the text of the postcard was a request to the stranger, who found it, to send the postcard back to the address written on the back of it.
The installation re-adopts the idea of the postcards as the audio in the room recites the poem both in English and in Cantonese. We chose an computer generated voice to remain neutral.
Also the setting of the balloon recollects the setting outside, since the balloon, the animation which was related to the spoken words was projected on was also surrounded by a fence.
This concluded both part of the project.