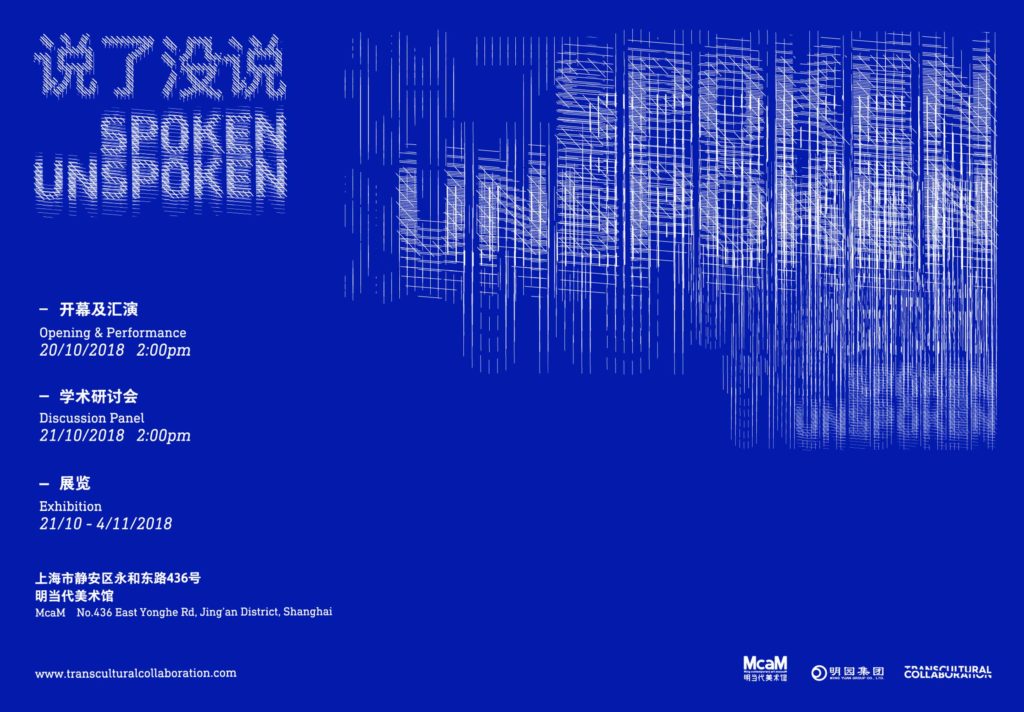 Opening & Performances: 20 October 2018 2:00 – 6:00 pm
Panel Talk: 21 October 2018 2:00 pm
Exhibition: 21 October – 4 November 2018
Address: McaM – 436 East Yonghe Road, Jing'an District, Shanghai
We cordially invite to the opening of SPOKEN / UNSPOKEN on 20 October 2018 (Saturday) starting at 2:00 pm at McaM's villa for a vibrant day full of performances and installations developed by 36 young international artists. Performances will be taking place at different time slots between 2pm and 5:30pm.
The performances and exhibition consider and display questions of language, cultural codes and artistic strategies dealing with implicit and explicit expression. By creating spaces of ambiguity, gaps and tensions, the entanglement of SPOKEN / UNSPOKEN poses a fundamental conundrum. To delve into their interrelatedness, it is key to move beyond a binary perception of the two aspects. This can be achieved by unveiling their coexistence in daily life, in different cultures and, lastly, in the arts themselves.
In the two-week exhibition, 36 artists will present their collaborative explorations of the spoken and unspoken, the tangible and intangible, as well as the revealed and concealed.
COOPERATING UNIVERSITIES:
Academy of Visual Arts, Hong Kong Baptist University
China Academy of Art, Hangzhou
LASALLE College of the Arts, Singapore
School of Creative Media, City University of Hong Kong
Taipei National University of the Arts
The Hong Kong Academy for Performing Arts
Zurich University of the Arts