A conversation with Fu Liaoliao, head of the curatorial department of Ming Contemporary Art Museum (McaM)—our partner, host and unique exhibition space for SPOKEN / UNSPOKEN in Shanghai. McaM is currently the only institution in China that is primarily dedicated to performance and live-based art.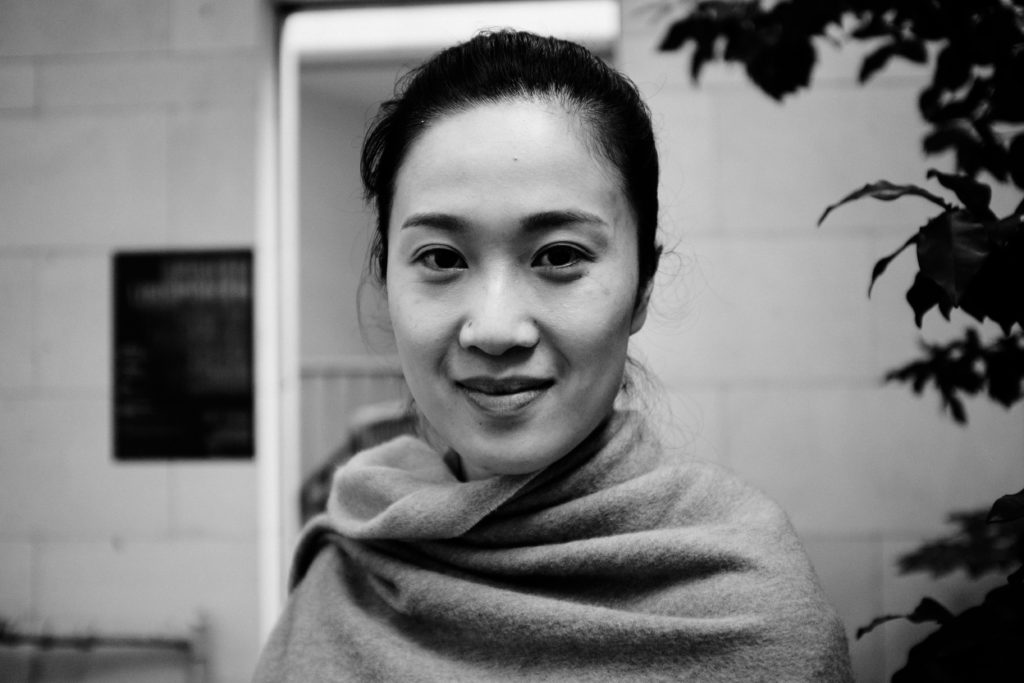 BUILDING A NON-EXCLUSIVE AUDIENCE
Fu Liaoliao, how did you become passionate about performance? It began when I was studying in Paris for the last year of my degree in Art Management. Next to my studies, I was working as a journalist for a Chinese art magazine and published several interviews and articles on Festival d'Avignon. At the festival and beyond, I watched a lot of theatre pieces and was intrigued by the immediate physical encounter that you experience in live-based work. Moreover, I've found the possibility for engaging more people through the use of performance art because of the relationships it fosters. So since I started to work for McaM in 2015, we've placed our focus on performance, dance and theatre-related work.
Recently you held a lecture in Singapore titled The Museum as an Area for Action. What was it all about? I talked about the museum's curatorial practice since its establishment and introduced its social, historical and geographical context. As you know, we are situated in the north of Shanghai which is less developed than the city center. Some decades ago up here was the industrial heart of the city and our venue used to be a paper machine factory built in the socialist times of the 1950s. So the premises of the museum had been a place of collective action, work and life for several decades. Moreover, not far from here is an area where renowned socialist writers used to gather in the 1930s making it an important place of collective memory for the left-wing movement. In my lecture, I tried to illustrate how we address this crucial context with our curatorial practice.
Why is performance your art form of choice to engage with the museum's local context? Performance is a useful point of departure because of its focus on the artists' bodies and on the time spent with the audience. We came to think that this is a good way to engage people not only from within the art world but also from outside and involve them in some sort of co-action. Our aim is to build up a non-exclusive public—to use a term by Thomas Hirschhorn. For our exhibition Precariat's Meeting in 2017 we'd invited 14 projects to occupy both the internal and external space of the museum. In front, we had for example Ma Yongfeng's Guerilla Living Syndrome—a mobile structure representing his take on guerilla architecture. It was meant to be a place for rest for anyone who happened to come by. We invited construction workers from across the street to visit and relax at the space if they wished. Next to it we had set up a radio station with a PA that aired stories about the exhibition as well as about local art and social movements. A couple of workers would indeed come over during their lunch breaks to hang out for a while and listen to the recordings. Such kind of encounters are quite exciting.
BECOMING A PLACE OF PRACTICE, LEARNING AND MEMORIES
What other strategies do you apply to turn McaM into a public space? Besides cultivating a rather radical approach of curatorial thinking we also do a lot of research and experiments on different kinds of performance and performativity. In 2016, Biljana Ciric curated the group exhibition Proposals to Surrender. She invited almost exclusively artists from the live-arts domain. During two months, approximately 30 people spent everyday in the exhibition and performed the durational art works. As a visitor, what you saw when entering were basically just people. This kind of live- and time-based work is one of our strategies to open the museum to a wider public. We also do exhibitions that have an archive character and focus on memory and historical movements. Our first exhibition was called 30 years of Experimental Theatre in China. We had gathered more than 70 video archives from as early as 1978. As this was only about a year after the cultural revolution (1966-76), the material was extremely difficult to find. And last year we began building up the Archive Center for Performing Arts which is open to the public. We consider research a part of our practice.
All of this indicates a very site-specific approach. Do you intend to interweave the local with a more global or transcultural perspective? Of course. A lot of international artists have taken part in these locally situated projects. We can see the value of the exchanges between Chinese and international artists as well as between the foreign artists among themselves. Moreover, we are interested in the development of Art Education in China and want to learn from international institutions in this regard. This may not be the mission of the museum today, but maybe it could be a future function of McaM to serve also as a place for learning.
Is this where you see McaM in ten years from now? In China, most art institutions have a precarious existence. Especially when being privately funded like in our case. The interests of private investors—often related to money and policy—are highly volatile. So while it's rather difficult to have a ten-year strategy, what we can do is to work intensively with the time and space we have today. But if things go well, I imagine that the museum could indeed become a place for the public to learn and experience and for artists to not only show but also experiment with and develop their projects. And, ideally, it would also be a place of memories. In that aspect, we look forward to deepening our work on the Archive Center.
RESCULPTING AND DELIVERING THE TRUTH
Shortly, Thomas Hirschhorn is going to arrive for the set-up of his upcoming exhibition here at McaM. He is notorious for his radical approach to community-based art. What will he be showing? Resculpt evolves on one of Hirschhorn's recent projects called The Ruins. First, he's turning the museum into a ruin, eroding all the existing functions and hierarchies of the space. From there on, he wants to focus on creation—on how to create the new out of the ruin. He quotes Antonio Gramsci: "Destruction is difficult. It is as difficult as creation." and Chairman Mao: "We're not only good at destroying an old world but we'll also be good at creating a new one." In confrontation with these two assumptions, he'll be resculpting the ruins in the course of one month.
Will he involve other people in the process? Yes, we'll try to bring in and involve people who are interested in his work or in the topic of creation and destruction in general. During the exhibition period they may come in, suggest and realise any project they want. At disposal are a lot of materials and tools for everyone to create their own work. We hope for people to come and do whatever they want, be it giving a speech, holding a debate, dancing or reading poems.
Given the political climate, Chinese art institutions seem to find themselves in a grey zone where there is art you can exhibit and art you cannot. For you, as a curator, how do you evaluate what is within the limits of the possible and what is beyond? For me, the most important thing is to ask how we exist in art and how we can be true in art. This is not only about the political context in China, but also about some of the global realities putting at stake truth in art itself. As long as we are talking on this level and not about specific events or incidents, no one will bother. But of course, it's necessary to understand that to establish a space for art in China is already very difficult and shouldn't be put at risk through careless action. For that reason, I prefer to think twice and bear in mind the fragility of our space. However, we also insist on delivering the truth.