By Simona Bischof (Art Education, Zurich University of the Arts), Vivian Chan (Music, Zurich University of the Arts), Wen Qing Kwek (Fine Arts, LASALLE College of the Arts, Singapore), Mei Yan Miley Wong (Digital Art, Academy of Visual Arts, Hong Kong Baptist University), Sir Meng Yau (Fine Arts, Taipei National University of the Arts)
Intro
Our work is inspired by the fact that we are an all girls' group. Growing up as females, our parents would tell us folk tales when young, to make us behave or to conform to certain societal norms in society. These tales always influenced us to believe in something. Sometimes, they would even re-shape our own personality or belief after listening to these taboos. Despite our different cultural backgrounds, we realised there were many commonalities in the stories told.
Concept
A sarcastic tone is employed to address taboos concerning women. Our work consists of a video animation of a girl narrating these tales in multi-lingual languages (English, German, Swiss German, Cantonese and Mandarin) in a voice that does not show any emotion. These are combined with child-like illustrations and grotesque graphic design in boxes to present a serious topic in a more light-hearted manner. Our aim was to review and reassess some of these taboos and to rethink these asssociations/ 'burdens' we carry that come with being females in today's society.
Process
The group started off with wanting to explore Hong Kong like a local. After our first discussion, we headed to explore Hung Hom Market. Hung Hom Market is a wet market and is frequented by locals but mostly by the older generation, as the food is cheaper there. Our aim was to try to live a life like how a local Hong Konger would, instead of being like a tourist.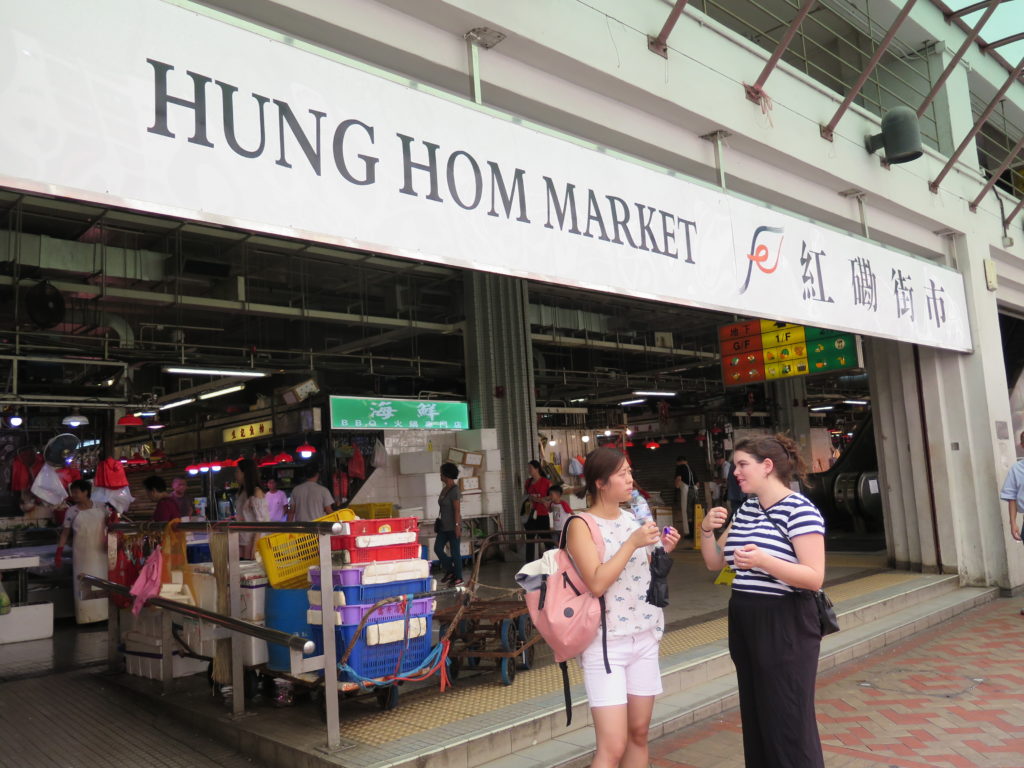 We thus headed to Hung Hom market and gave ourselves a maximum of HK$30 to explore buying ingredients on our own. Thereafter, we would cook a dish based on the ingredients purchased which we could either relate to or which 'spoke to us' in some way. Even if we could not speak Cantonese or spoke little Cantonese, we still had to experiment with conversing with the stall owners on our own, without Miley's help, the only local Hong Konger from our group.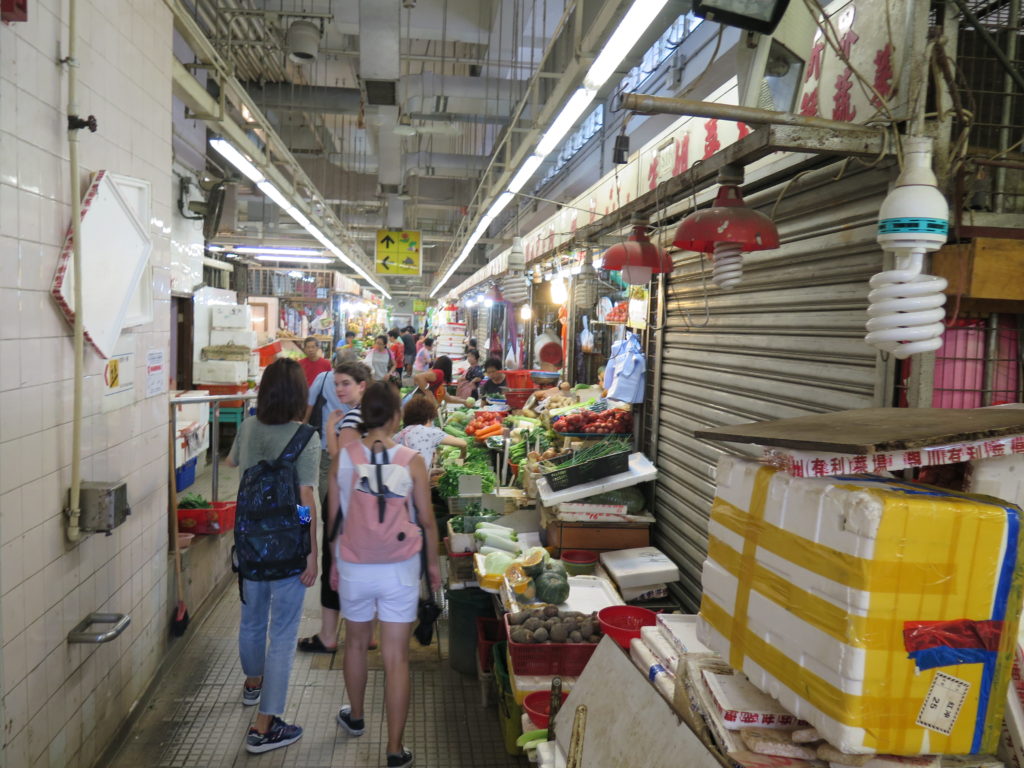 Why did we go to a wet market? It's a place where people frequent, to get daily necessities, which is paramount to one's survival. Markets are a melting pot of cultures where people from different walks of life come together. According to Miley, there are three types of markets. An indoor market with fans but still very hot, a street market that is outdoors and a restructured market with air-conditioning. The market type already suggests a different level of prices of the poultry, fruit and vegetables sold, with the restructured market being the most expensive. It also determines the people from different strata of society that would be found in these markets.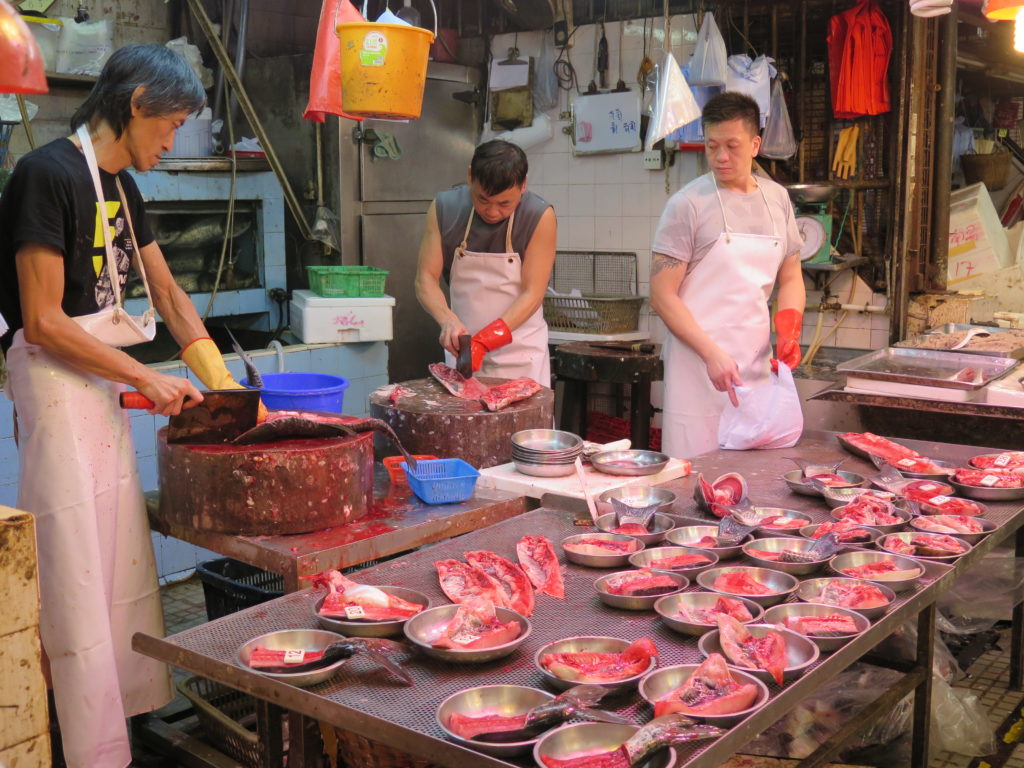 We gathered a lot of materials and impressions in the markets. To name only a few would be how we interacted with the vendors despite not knowing or knowing only a little Cantonese and how the market engaged with all our 5 senses. There was so much to take in at the market such that we lingered at a place for a couple of hours! According to Miley, most people would normally only just rush in and out very quickly, with the sole purpose of efficiently purchasing the groceries that they required.
After purchasing the necessary ingredients, we headed to The Grand Blossom apartment to individually cook our dishes based on the ingredients purchased. Some of us bought ingredients that reminded us of our childhood, others chose the ingredients out of curiosity for them. Whatever the reason, we spent the whole afternoon whooping up a variety of dishes!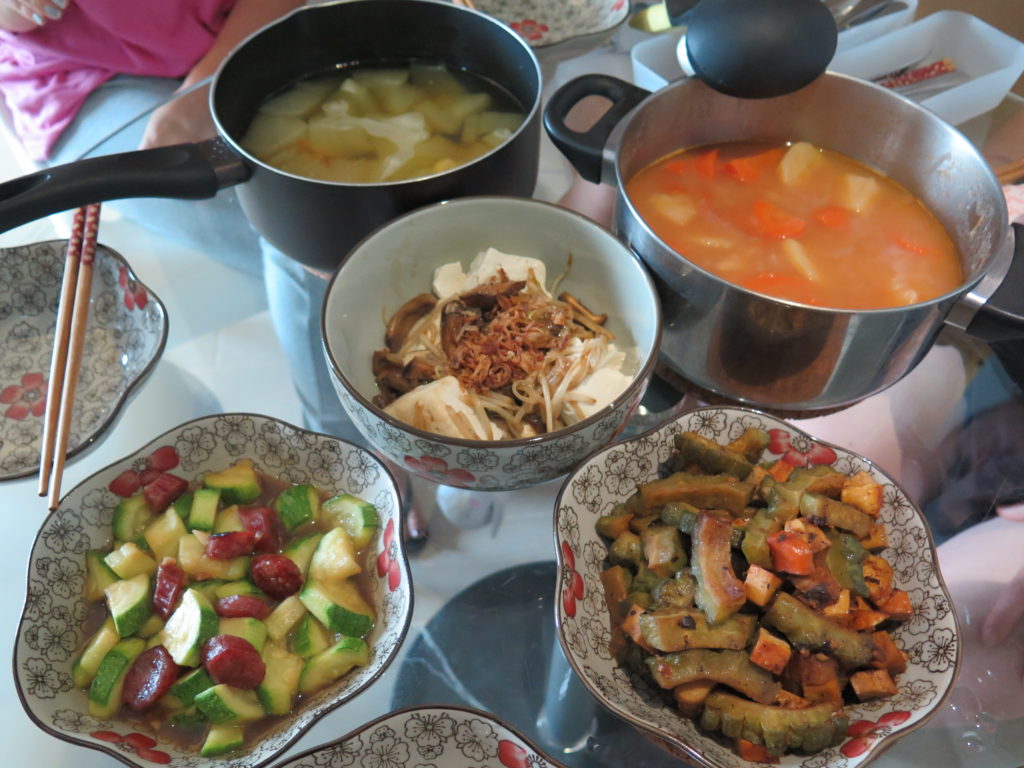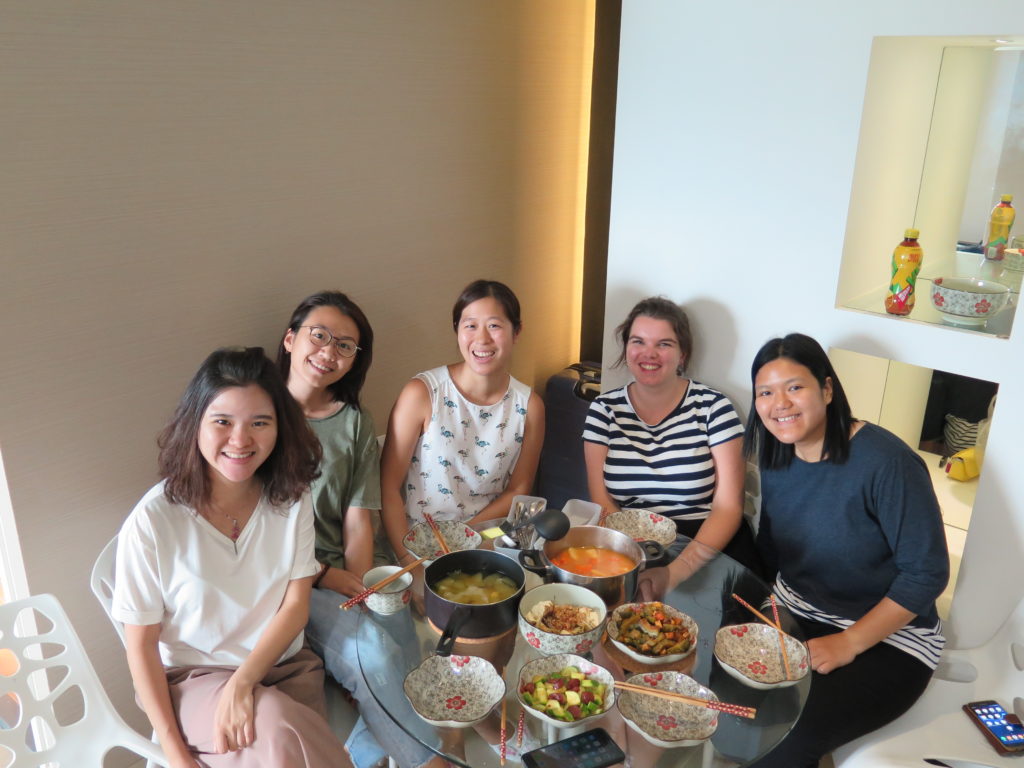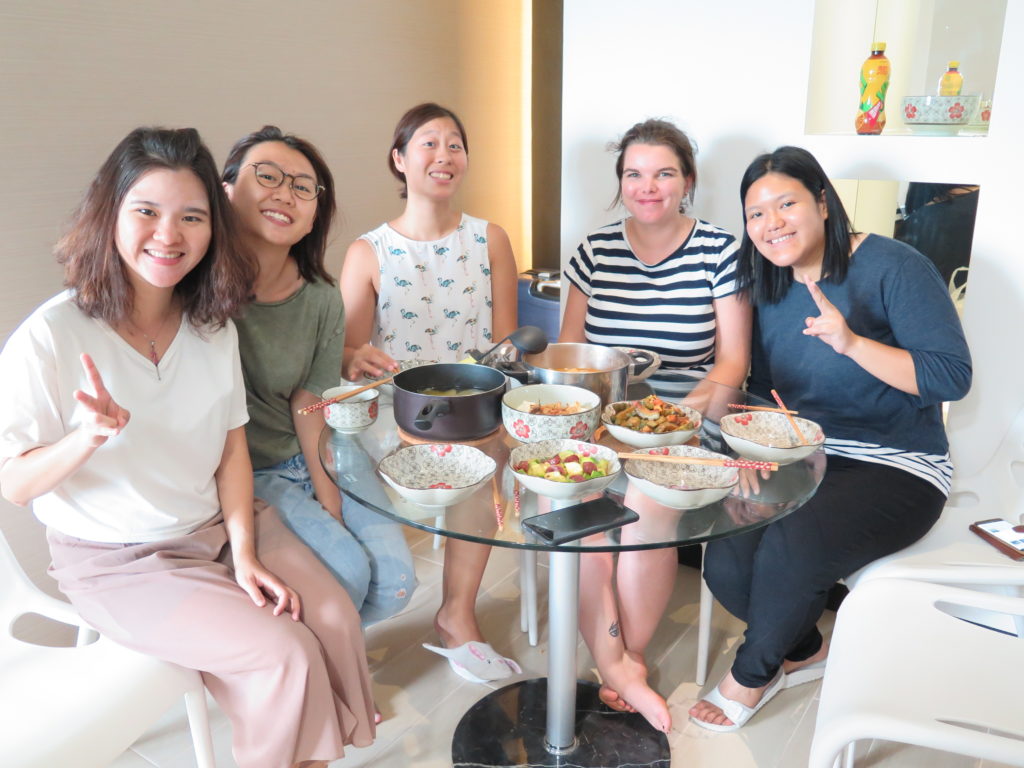 From that, an idea of a 'fridge cam' emerged. We were curious about what local Hong Kongers had in their fridge and how we could tell a family's eating habits and lifestyle according to it. We wondered if we could visit the homes of local Hong Kongers to view their refrigerators and conduct interviews with their respective families. Originally beginning with the idea of taste to engage the viewers, we arrived very quickly at bringing to viewers the whole of Hong Kong experience, by creating an immersive exhibition that would involve our 5 senses – taste, smell, touch, sight and hearing. Other than the market, we would also allow others to experience different aspects of Hong Kong via our exhibition.
Hence, for our next meeting, our group headed to Wong Tai Sin temple, a Taoist temple frequented by many locals as it is famed for answering many prayers. Like the locals, we recited our full name, age and country that we are from, before trying the divination sticks as well as the moonblocks and sought answers to many questions ranging from relationship issues, to family and studies. We were surprised to learn that the answers to what we were seeking with regard to the divination sticks were also available digitally, online!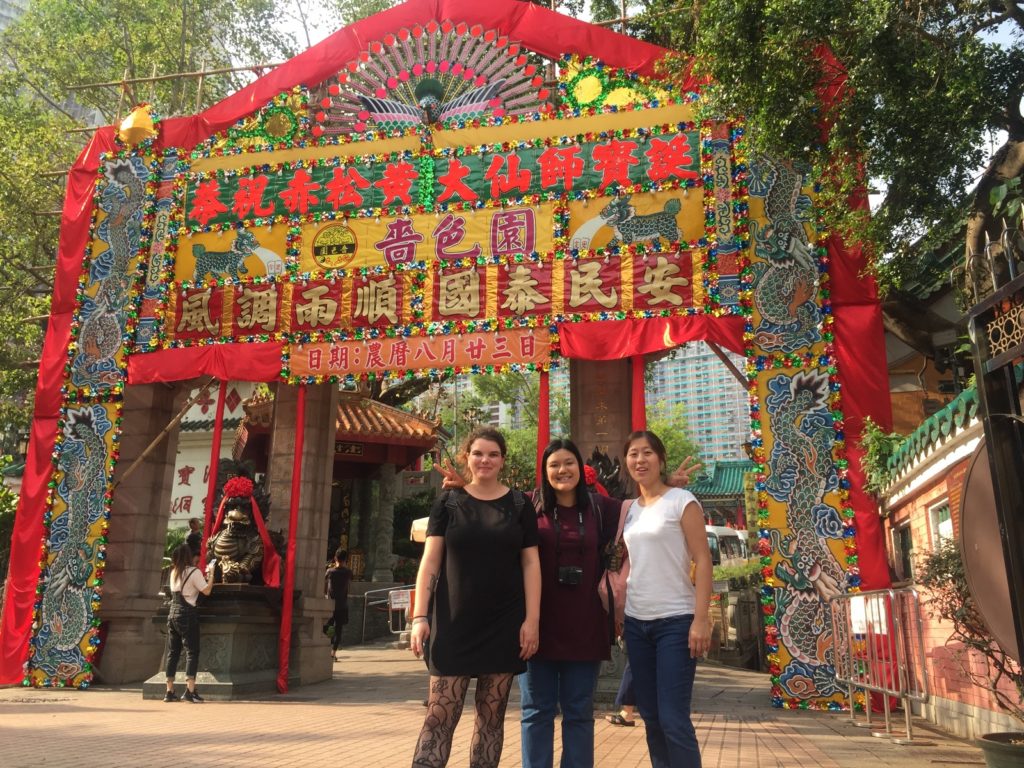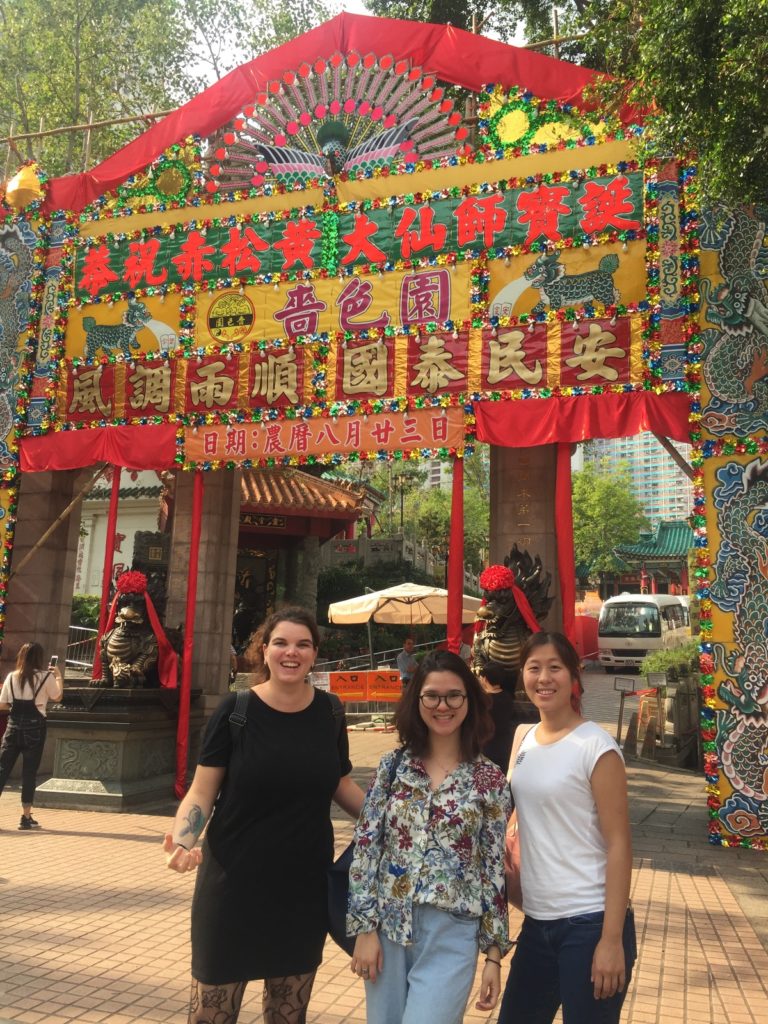 Miley and Sir Meng ended up with the average lot whereas Wen Qing and Simona ended up with a very bad lot, the worst that one could ever get. We also observed that the locals had different ways of employing the divination sticks and the moonblocks. Some prayed using only the divination sticks, others used the divination sticks first followed by the moonblocks to test the accuracy of the divination sticks and there was also an aunty who kept praying and collecting divination sticks throughout the time we were there!
Some other ideas explored were also the fluxus movement, where we thought of creating humour, delivering a message or even doing certain actions in a public space that would disrupt the lives of the local Hong Kongers. These would be done in a playful manner and our intention was to see how they would react, even if we were to end up getting reprimanded by them.
We also tested playing a lost in translation game, in which Simona started off by telling Vivian a story in German. This was followed by Vivian speaking in Mandarin to Miley, Miley speaking in Cantonese to Sir Meng and Sir Meng speaking in English to Wen Qing. Lastly, Wen Qing would say the story she heard in English, followed by Simona repeating the actual story to everyone in English.
However, we realised that larger than the translation issue, memory played a greater role in the lost in translation game as when the story was passed on from one person to another, certain things were forgotten and eliminated along the way, leading to the content of the story gradually changing and becoming shortened as we went down the line.
During a mentoring session, we were made aware that our group consisted of five female group members. With that in mind, we decided to develop our idea revolving around this fact.
Our theme for the exhibition came about while we were cooking and having lunch together. We discussed about how we felt as females in today's society, about our childhood and how we were being brought up as girls. We noticed that we were faced with a lot of social pressure to conform to society and toyed with how we could portray a serious topic in a secretly rebellious manner. Despite our different cultural backgrounds, we were surprised to learn that there were similarities in the stories our parents told us as children, to make us behave in a certain way and we wanted to twist these thoughts.
With that, a key message we developed was as follows: There was once a girl… That did something she was not supposed to do…. and then she died.
The structure of our sentences were inspired by Struwwelpeter, a German bedtime classic that consists of a collection of morality tales, in which disastrous consequences of misbehaviour were illustrated in an exaggerated way. Parents during the early decades of the 20th century found them useful for child-rearing. At the same time, we were inspired by McDull, a famous pig cartoon character from Hong Kong who isn't very smart and is ordinary in every way. Nevertheless, he has many dreams. However, every time he tries, he fails; he is disappointed, but tries again, exploring other dreams. He is not perfect, but his attitude towards life, namely of never giving up, makes him a popular character. The film script is full of ingenious jokes and puns. Behind the hilarity though, is a lurking sense of sadness and disappointment, often propelled by the disparity between innocent hopes and unfulfilled promises.
This irony also became the key method in which we would use to convey messages of these tales to our audience.
Examples of the illustrations…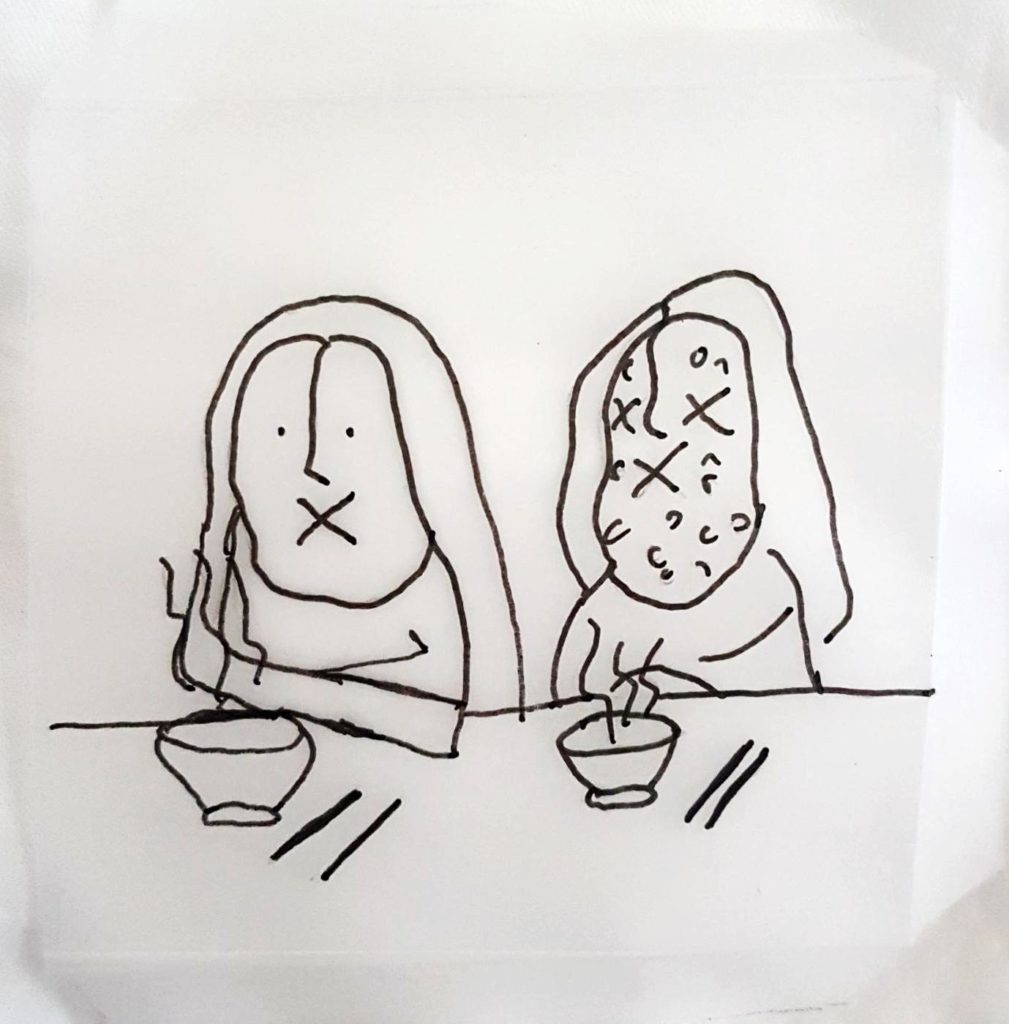 Result/State of Play
With that, we gathered many tales that our parents would tell us when young and which specifically related to females.
These are the tales, in the form of sentences, categorized into 4 categories:
Sex & Relationship
Who lost her virginity before marriage

Who got pregnant before marriage

Who stayed at her boyfriend's house overnight

Who had more than 3 partners in a year

Who was friends with a lot of boys

Who was not married by 30

Who did not want kids

Who did not cook for her husband

Who went to work instead of taking care of the kids at home

Who went to university instead of getting married
Appearance
Who cut her hair short

Who got a tattoo/piercing

Who did not watch her weight

Who did not eat soup to keep her skin smooth

Who did not like to wear dresses

Who wore very revealing clothes
Manners
Who used foul language

Who sat with her legs apart

Who made a scene in public
Habits
Who stayed out late

Who did not like pink

Who did not like dolls when young

Who smoked and drank alcohol

Who bit her fingernails

Who did not finish a bowl of rice and her future husband's face was full of pimple scars

Who did not keep the laundry when it rained
We then proceeded to record them in the languages that we are fluent in: English, German, Mandarin, Swiss German and Cantonese. Our recordings were then combined with an animated video Miley created of a girl speaking in different languages but devoid of emotions. The girl was representative of just any other girl on the street and the voices, representative of the larger public; being able to relate to the similar experiences that females would have to go through.
Vivian also recorded a soundtrack for the animated video, which served to separate one story from another. Wen Qing, Miley, Sir Meng and Simona also worked on the illustrations in the little boxes. The illustrations are the same as the stories narrated by the girl in the animated video, and would be lit from the back of the boxes in a semi-dark room. This would also be the way to link the 2 rooms together, both of which speak of the same concept but portrayed in a different manner. The position of the boxes were also done purposefully, forcing the viewers to bend and squat in order to peer into the tiny holes to view the illustrations; reminding them of their childhood, the spirit of being curious and adventurous.
Originally, we wanted to suspend some of the boxes or create a crime scene in which people would have to lie down in a dead position created by tape to see the story of what the girl did before she died. However, all these stories were later combined into the animated video. As we did not wish to introduce anything that was too obtrusive to the space, we decided to make inventive use of the bricks that we found when we arrived in the exhibition room. We subsequently also carried more bricks up which we found at the premise, which eventually became part of our final installation on display.