Week 9 
In a nutshell
Visit of McaM: meeting with the museum's curating team and site inspection of our exhibition space at McaM's villa
Shanghai art tour: Am Art Space and Power Station of Art guided by Zhao Chuan including talks by local artists and curators (photos here)
Exhibition opening and performance afternoon: 说了/ 没说 : SPOKEN / UNSPOKEN on October 20, to open the booklet click here
Panel discussion at McaM in the context of the exhibition with TC core team members and exponents of the local and international performance scene from both practice and research backgrounds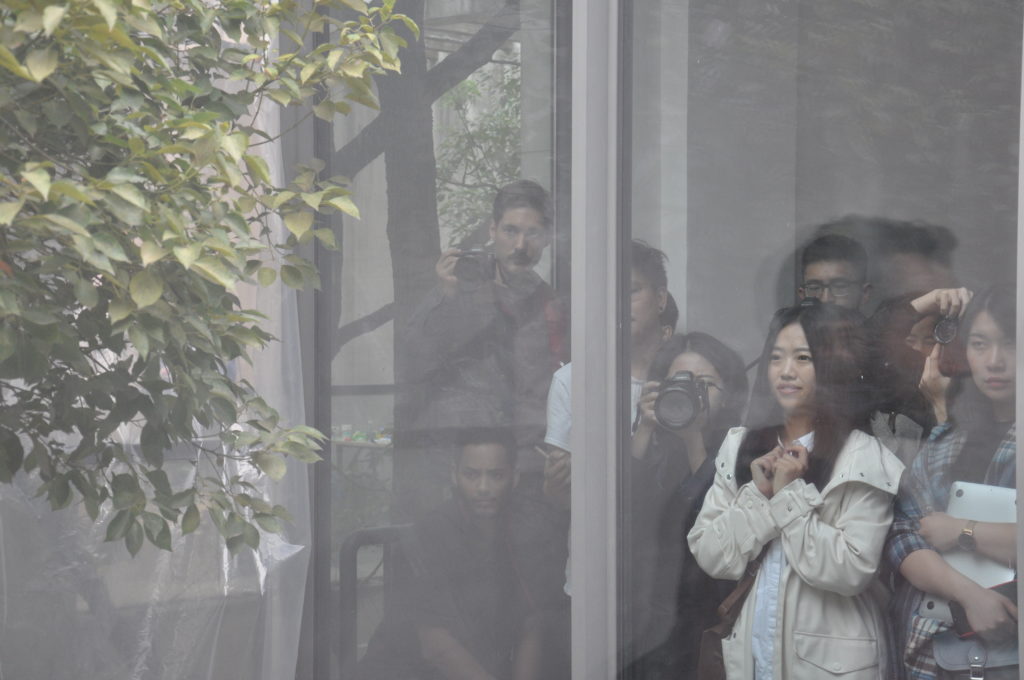 Arrival
After everyone had arrived and gotten used to the much colder climate up North the group convened on Saturday for an on-site inspection and first selection of group spaces at McaM's empty villa. The villa exudes a dusty charm of abandonment and untouched potential. It is a labyrinthine three-floor building full of corners from a damp cellar to a central patio with trees. Everyone seemed quite awed by the house's special atmosphere. First ideas of how to appropriate the space for the performance afternoon that would happen only one week after emerged and the following two days the groups got down to work. To read our interview with McaM's head curator Fu Liaoliao click here.
Art Tour with Zhao Chuan
TC core team member and Shanghai local Zhao Chuan took the group on a break from the intensive preparation of their performances and installations for Saturday and provided an insight into the diversity of the local art scene from underground to big shot. (>> for photos click here) Literally underground is AM Art Space's location downtown—the first station of our tour. There, the group had the chance to meet four local artists who introduced themselves and their work: Yu Ji, Coca (Dai Jian Yong), Gao Jie and Wu Meng.
"am Art Space is an independent experimental art space founded by artists in 2008. Defining the ideal space as a 'room for introspection', am Art Space has served artists many times as a source of creative inspiration and as a material medium for the realization of creations, using the execution of projects to discuss the relationships between public spaces, artists and the public. Each year, the space carries out international residency programs, programs to support young curators, exhibitions, forums and workshops."
After lunch, the group gathered at the museum of contemporary art PSA (Power Station of Art) for a guided tour through the current exhibition as well as a talk by Shi Hantao, chief coordinator of the 2018 Shanghai Biennale.
Exhibition opening and performance afternoon
We were incredibly pleased, honoured and excited to welcome dozens of guests from students to professionals who cared to come over to our Ming Garden City next to McaM in the North of Shanghai just to join the opening of 说了/ 没说 : SPOKEN / UNSPOKEN on October 20 and the accompanying panel discussion on the following day! To read the detailed review on our exhibition opening click here.