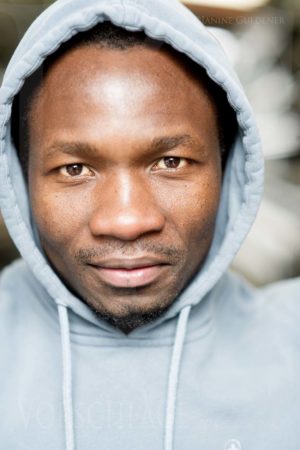 Mbene Mbunga Mwambene was born in Kitwe, Zambia but grew up in different towns and cities between Zambia and Malawi. He worked between Malawi and European Theaters from 2012-2015. He studied for a Diploma in Journalism at the University of Malawi before pursuing MA in Theatre at Bern University, Switzerland.
He is a Theatre Artist, Journalist, Poet, Dancer, playwright, and Theatre Director but worked at Nanzikambe Arts but also as a freelancer artist and journalist. He was also involved in a three year partnership between Theater Konstanz , Germany and Nanzikambe Arts . His actively involved in Hamburg-Blantyre twin sister partnership. His professional acting life has revolved around doing interactive theatre for disadvantaged communities and also performing innovative theatre pieces for local and international audiences. His passion for innovative theatrical productions is also contextualized with the existence of his current solo production entitled The Story of a Tiger, which has been show across Germany, Switzerland, Japan, Liechtenstein, Ireland, Malawi, and Austria. He also performed "Refugees, I and Switzerland, Waiting for Godot and Body Scan" in Switzerland. .His solo project, The Story of a Tiger has appeared at Mwezi Wawala International Arts, Malawi cultural Arts and Blantyre Theatre Festivals – Malawi 2012, Spleen Festival in Graz, Austria Feile Lorrais and Galway Fringe festival in Ireland. The production was commissioned by Prof. Dr. Nix of Theater Konstanz in 2011.He has performed also other pieces in South Africa and Zambia. He is also a participant of Transcultural Collaboration program in Hong Kong.
Mbene also also conducted numerous theatre workshops in schools, public places and prisons in Malawi, Germany, Switzerland and Austria. Mbene"s first professional acting was in 2007 when he was a cast member of Accidental Death of Democracy which toured South African and Malawian Cities and towns. He has also appeared on three different TV drama in Malawi.