Yan Jun Nur Group
Jesica Bastidas, Dennis Kyosuke Ginsig, Carmen Jiecong Men, Angelo Marco Rrem, Jade Haejun Park.
We realised the need of clear goals and a sharper work frame to go on with the group research. Our common interests were taken as guidelines: body, space and inner spiritual energy.
Some keywords were selected as input for our perspective: body, future, water, gravity, media, community, AI, boundaries, ritual and ceremonies.
Our practices attempted to relate this concepts with the multicultural and futurist contexts found in the city and countryside e.g. the field works experienced during the retreat week.
The working modules we worked on were body exploring/performing practice, materials aesthetics, group discussions and sharing of inputs.
The clues we have followed in body exploring/performing practice module are these two below:
Rainy Morning Exercise
Elements involved: Water, spiritual energy and media organs.
We chose an early rainy morning before the typhoon came to do a movement improvisation in group or solo/with or without media equipment.
We considered something else could be a 2nd skin of us. This skin could be the implanted media in the digital life nowadays. To experiment, we picked transparent rain coats and went to a training park on a hill. Basically we were exploring the space and dancing in the rain. Before we were doing it, we did the another performance to get the dark spiritual energy out: we yelled at the city at the top of the hill in our mother tongue. On the way back, we found another material can be explored: the bamboo hat.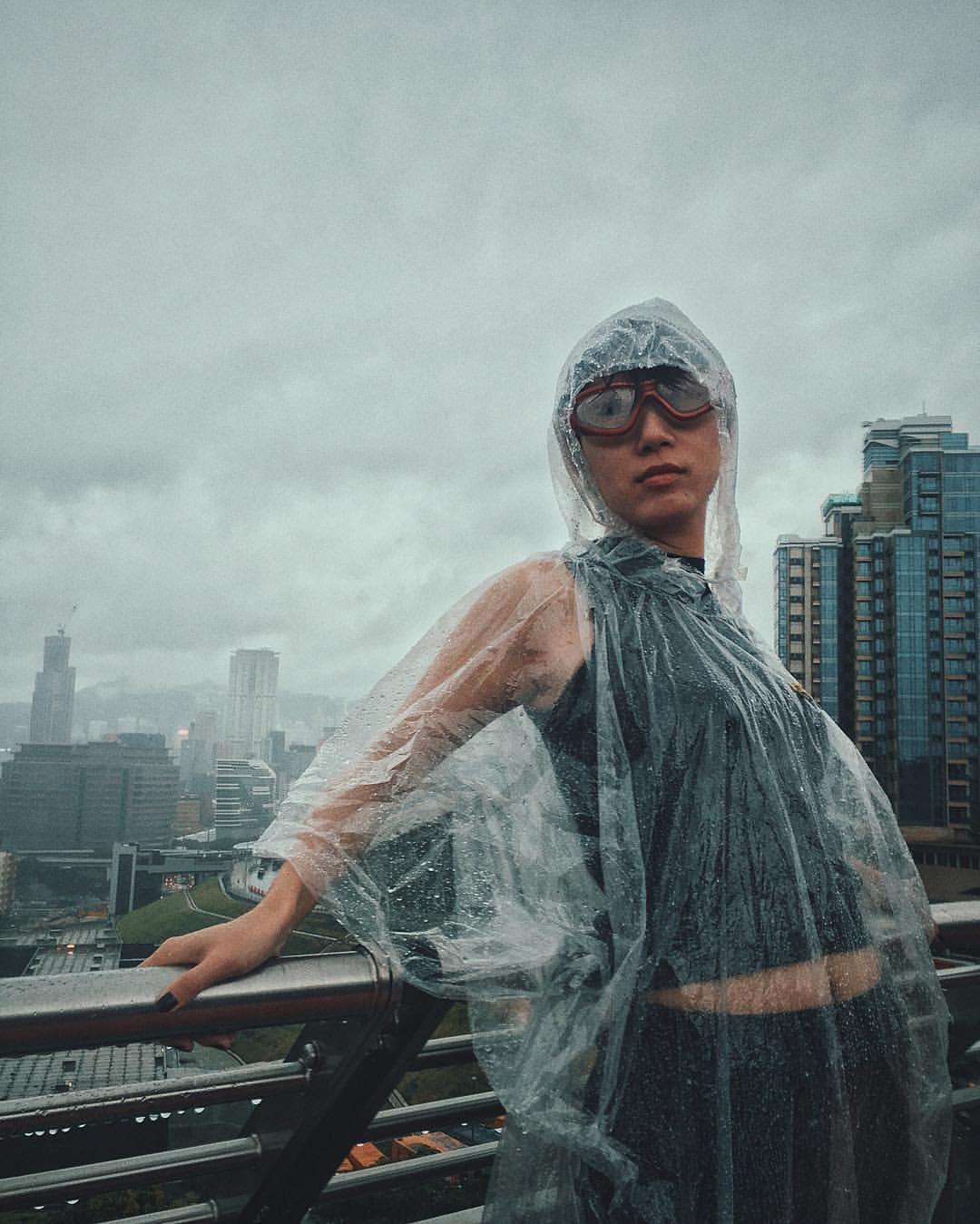 Butoh Workshop with Hakon
Elements involved: Sinking and body gravity.
Workshop guided by Hakon, performer artist and friend.
Exploration of metaphors and movement qualities such as: floating, instinct resistance, focus, minimum movement, slow motion and observation.
The chosen venue was at a public swimming pool.
The workshop was divided in 2 parts: exercise on the land, exercise in the pool. The differences concerning the force of gravity and the reaction of our body was perceived immediately. An improvisation exercise inspired our imagination and construction of body narratives.
Working Platform & References
Following the process of our constantly discussions, we set up an online working platform to share references and documentation material. We dedicated ourselves to the construction of our own philosophy and problem consciousness.
An important text reference appeared: Ghost Manifesto by Doll Yoko (Francesca da Rimini).
We organised a group cineclub with the films: Hypernormalizaion by Adam Curtis and Symbiopsychotaxiplasm – Take Two by William Greaves.
We also paid visits to exhibitions like THE SERENITY OF MADNESS by APICHATPONG WEERASETHAKUL at Para site HK.
Silent Presentation and Division of Group
The following question constantly appeared during our group meetings:
"How does the group work should be?"
"Which action to follow?"
"Which is the goal of this project / performance / installation ?"
"Result or process?"
"Design or improvise?"
The views diverged and incompatible methodologies revealed themselves.
A couple of days before the silent presentation, to avoid being trapped/stuck in a certain point, and to give space to the different ideas and proposals, we decided to continue the work by dividing into 2 mini groups. This division was full of pain and happiness. The result was satisfying to all of us.
Reconstruction of the Group Work
After the Taipei field trip, we reconstructed the new group arrangement, reviewed our similar interests, and did new exercises e.g. a speed writing workshop.
We decided to follow and explore the 3 clues we had: Future, Body and Ritual.
We kept asking the questions: If we assumed us already to be the posthuman in digital and internet life nowadays, if we admitted the A.I. times would be certainly coming, except the high level intelligence and technology media we have, what kind of spiritual religion would we have? What kind of god would we believe in? What is the relationship between mysticism and desacralization?
We kept these questions in mind, and combined the context we have constructed, we worked divided and tried to control it in the whole frame of the group work. We decided to construct an A.I. Temple and a ritual for the posthuman.
Guardar