Exhibition Program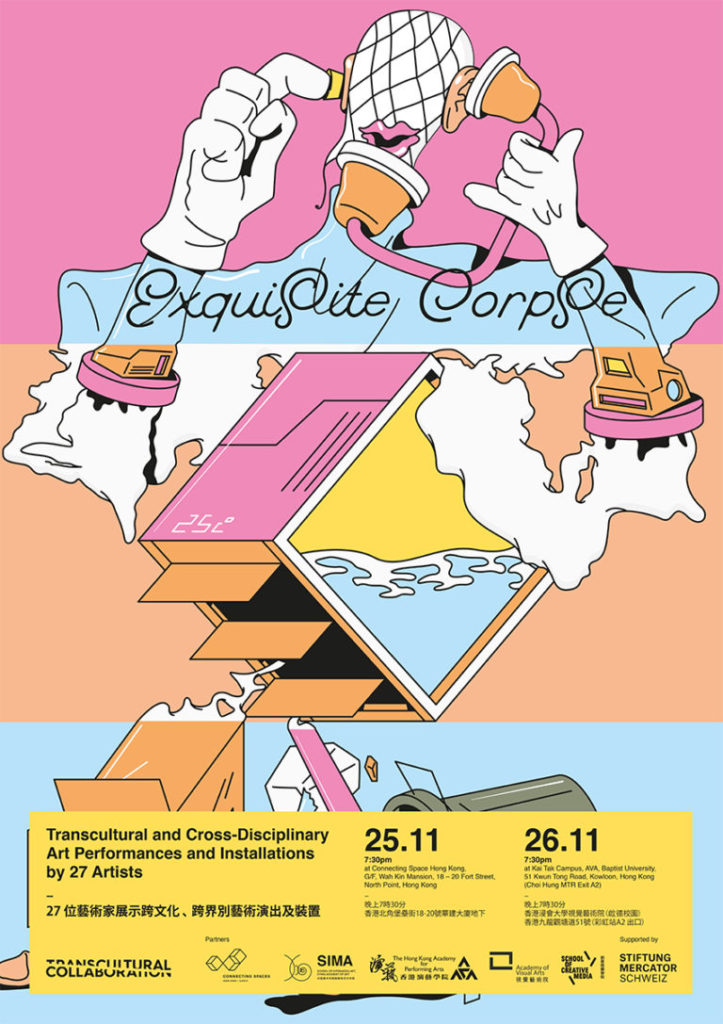 "EXQUISITE CORPSE" playfully and unpredictably combining, displacing and replacing limbs, while forming creatures and languages of coincidence and encounter.
In the 2nd edition of this unique international graduate semester program, 27 artists and designers from six different art universities from Europe and East Asia spent one semester of intense transcultural and cross-disciplinary collaboration including all art and design disciplines. On 25 and 26 November seven groups will show their explorations and experiments in a variety of different formats and topics.
All events are free of charge and open to public.
25 November 2016 (Friday), 7:30pm
Connecting Space Hong Kong, G/F, 18-20 Fort Street, North Point, Hong Kong
Installation: "The Bubble", Performance "Oolong 烏龍" with Drinks & Snacks
26 November 2016 (Saturday), 7:30pm
Venue: Academy of Visual Arts (Kai Tak Campus), Hong Kong Baptist University (Directions)
Performances & Installations: "After Condensation", "Insulted Lemon Jam", "It Will Become Someone Else's Secret", "Boundary", "0.142921%"
Dinner Buffet from 6 – 7.30pm (open to public), Afterparty with DJ neoliebe & DJ senseless
These events present the experiments and explorations of the annually international graduate semester program "Transcultural Collaboration" a cooperation of art universities from Hong Kong, Mainland China, Taiwan and Europe. Its general focus is on transcultural topics and its main working method is cross-disciplinary collaboration including all art and design disciplines. The program is mainly taking place in Hong Kong and includes stays in Zurich and Taipei. It's part of the networking platform "Connecting Spaces Hong Kong – Zurich". For more information on "Transcultural Collaboration" please visit: www.connectingspaces.hk
Partner Universities
Zurich University of the Arts; School of Creative Media, City University of Hong Kong; School of Intermedia Art, China Academy of Art Hangzhou; Academy of Visual Arts, Hong Kong Baptist University; Taipei National University of the Arts; Hong Kong Academy for Performing Arts