Puppets don't have life. But they tell stories. Well…we tell stories. This story is about a boy who got his adventure in a totally different world. If it sounds familiar to you, we assure you there will be something new. Like the boy can be you and me, and this strange fantasy world is actually not very far from us.
Can our brave boy come across his rainbow bridge and arrive his brave new world? Let's wait and see. The idea came from all the research we did in Yogyakarta about transgender woman, who called themselves waria. We are deeply touched by their optimistic attitudes towards life, so this story as a comedy is contributed by all wonderful woman we visited and got inspired.. Enough talking. Curtains down.
Living two months in Yogyakarta, Indonesia, we got a lot of inspiration from the culture, the environment and the surroundings what concluded in our final work "Straight Gay". From the traditional Javanese wooden puppets Wayang Golek we got the first inspiration to create a new interpretation of a puppet theater. In Indonesia we got confronted about how the country, the society and the people deal with queerness and the LGBTQIA+ community. From our own discomfort we wanted to get to know other queer people and how they create their life in a restrictive city. We got in touch with Mami Ruli from the Waria Crisis Center and Shinta Ratri, the initiator of the first worldwide Transgender Islamic Boarding School.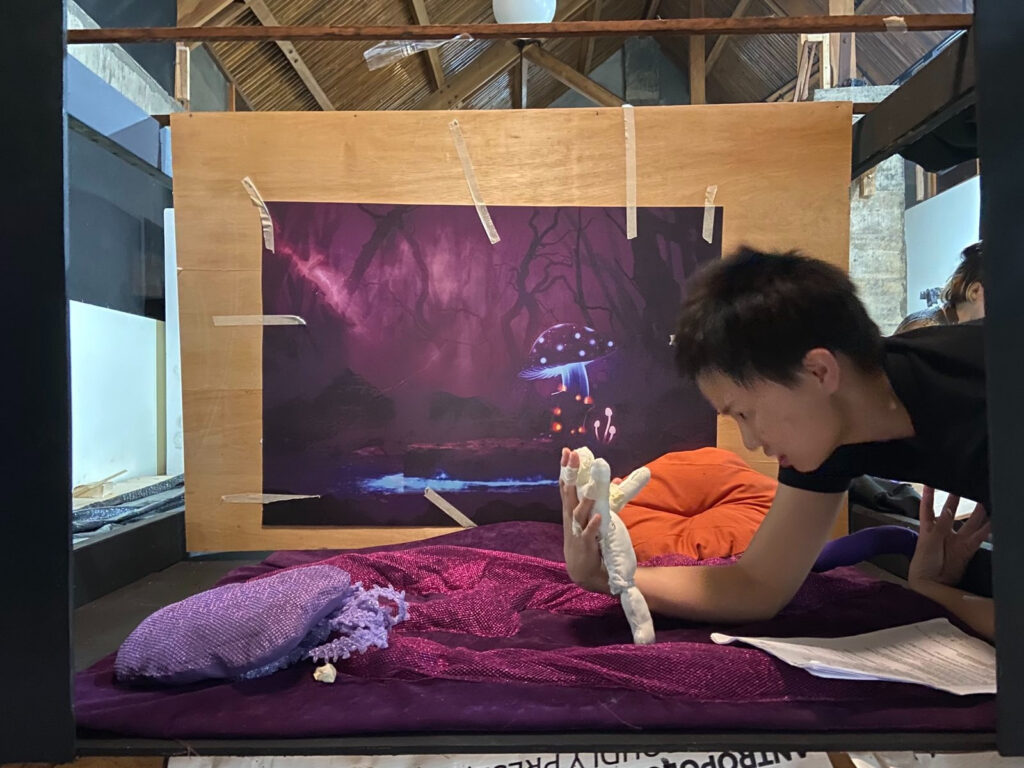 Within the research process we came up with the story of our short "Straight Gay". From then on we worked in all directions, while we were designing and building our little black box with 3 different stages, we rehearsed and did try outs of the puppets. We soon realized that we would need much more time and practice to play with wooden or three dimensional puppets. We took a step back and continued where we stopped in our try outs: using only our body, our hands and feets to play different characters. To distinguish the different roles, we worked with extended toenails or lace stockings.
Luckily our technical and artistic expertise was broadly based, as we come from Scriptwriting, stage design, performing arts and fashion design backgrounds and our final work has covered the different areas.