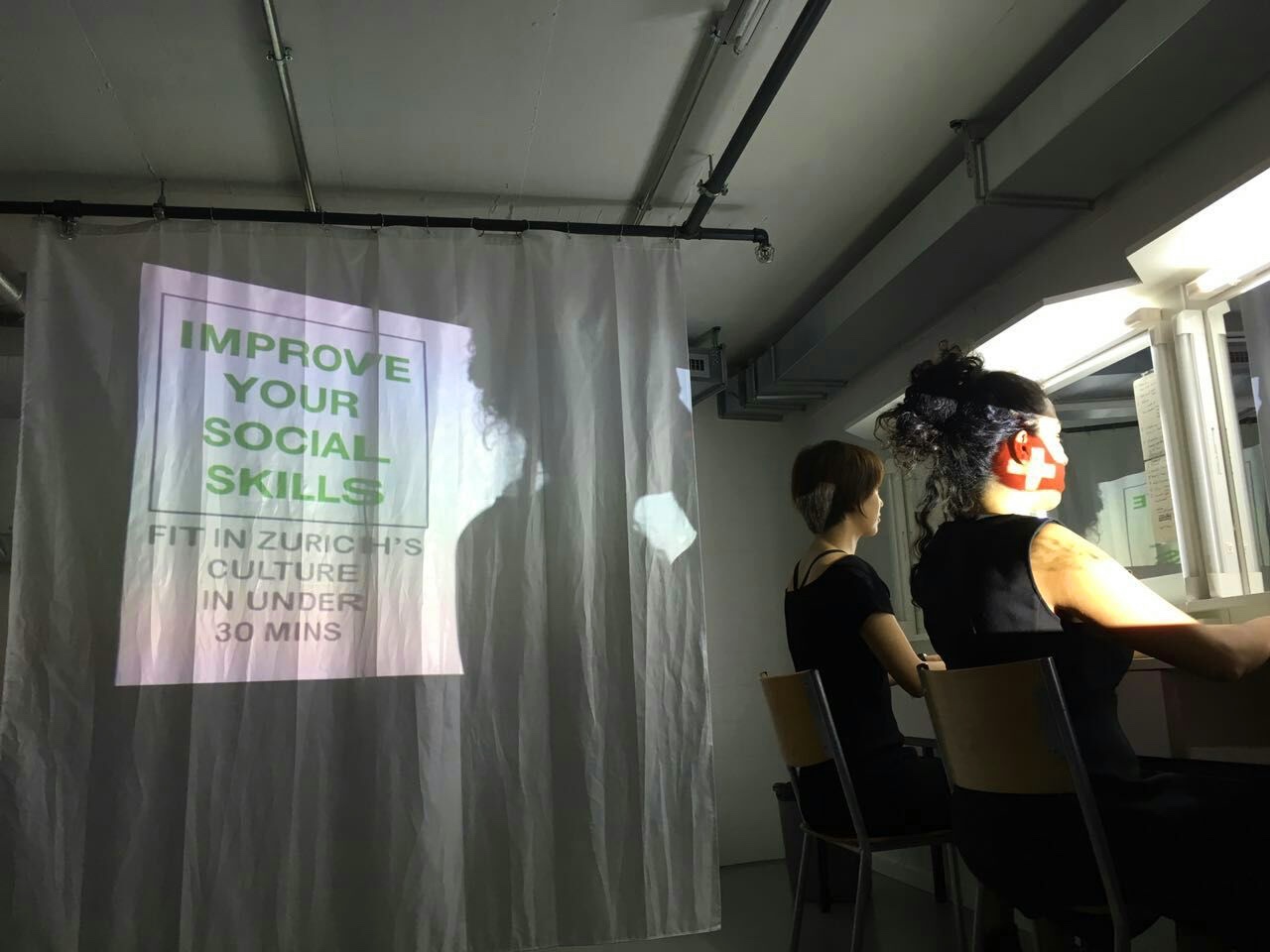 PERFORMANCE/LECTURE
IMPROVE YOUR SOCIAL SKILLS,
FIT IN ZÜRICH'S CULTURE, IN UNDER 30 MINS

Artists: Catch the Manta ( Jiecong Men & Jesica Bastidas )
Venue: Women's Dressing room, Toni Areal ZHdK, Zürich
Date: 09.09.2016
WORKING PROCESS
Phase 1: Who are you/me/we?
Getting to know each other by exploring Zürich together: walks around the city, shots of visual elements, swimming in the lake, having a coffee, sharing a beer, going to clubs.
Phase 2: Where are we? What to do?
Brain storming and concept developing based on Zürich's impressions.
A: THE WOMB CLUB.
The team shared a notion of Zürich as a city that seems to be moving towards an ideal of welfare and standardise way of life. No rough edges, only smooth transitions in it's urbanism, architecture, aesthetics, transportation, inhabitants, etc.
We consider that womb is a symbol for closed-circle culture. Womb is also a system who give birth or rebirth, which remind us the learning procedure provided from Zürich government to people who are new here (immigrators, refugees, students. This cultural demonstration also impact local's life. )
A philosophy theory from Peter Sloterdijk suggested beings would build a microsphere to protect us from outside, somehow it becomes a part of our insides, this kind of microsphere is  also called Bubble.
Proposal: to create an exclusive night club, space that could allude to a womb, with comfortable sound and texture, visual projections included.
The association of the womb as a space of gestation leaded to the question: What is created in there?    
B: STANDARD BEING.
The team decided to focus on the process / event / movements that would take place inside this special club.

Proposal: a secret club  for it's members to receive a training lecture, that could guide them to become an standard part of Zürich's multicultural landscape.
Phase 3: Produce / Stage / Rehearse
Scouting for the performance space: a "dead end space" where the participants could arrive only with the help of a guide.
Collecting of the props.
Costume decisions: visual uniformity to contrast with different characters.
Script writing: research and summary of  life hackings for Zürich.
Sound and visual design: research and experiments with different characters.
Staging: explorations and decisions according to the possibilities of the space. Rehearsal.
Phase 4: Perform